OSCAR HERNÁNDEZ- PIANIST, MUSICAL DIRECTOR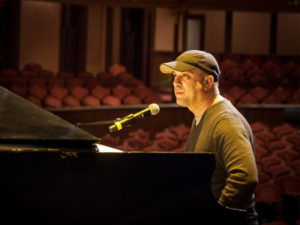 4X Grammy Award Winner Oscar Hernández has long been considered one of the most gifted and prominent pianist/ arrangers on the contemporary Latin, Latin-jazz and salsa music scene. He has achieved legendary status for his prolific career spanning now over 40 years.
Oscar Hernández is the leader of the world renowned Spanish Harlem Orchestra. With their seven CD's to date, Oscar and SHO, as they are commonly known, were nominated for a Grammy on their first CD "Un Gran Dia En El Barrio," won the Grammy for their second CD release," Across 110th Street" and nominated for their third CD "United We Swing", and winning yet another Grammy with their 4th CD "Viva La Tradición" and won their 3rd Grammy with "Anniversary" in 2019. Oscar was the music producer as well as pianist/arranger on all CD's. Since the band's inception in the year 2001, SHO has garnered numerous awards and world acclaim as one of the finest exponents of Salsa and Latin/Jazz music. Spanish Harlem Orchestra is generally considered one of the best Salsa & Latin-Jazz Orchestras today and one of the finest music ensembles in the world.
They just finished releasing their 7th CD with SHO titled, "The Latin Jazz Project", which receiving rave reviews.
Oscar's career as a professional began in the 70's performing and recording with such seminal artists as Ismael Miranda, Ray Barreto, Celia Cruz, Conjunto Libre, Pete "El Conde" Rodriguez & Grupo Folklorico. Oscar was responsible for charting the musical course of the Rubén Blades Band. "Seis Del Solar". Increasingly in demand as a pianist, arranger and producer, the Bronx native has produced such artists as Ruben Blades, Paul Simon, Willie Colón "Carabali", Daniel Ponce, Rafael Dejesus, Eddie Torres, Phil Hernandez, Steve Kroon, Juan Luis Guerra, etc. and than made a more personal statement with the debut CD's "Decision" and "Alternate Roots" by his band Seis Del Solar the Rubén Blades Band sans Rubén, and now with his 3X Grammy Award winning band, Spanish Harlem Orchestra.
In addition to being Rubén Blades pianist, arranger and musical director, Oscar Hernández has enjoyed a prolific musical career recording and performing with such world renown artists as Latin music king Tito Puente, Queen of Salsa Music Celia Cruz, Latin Pop Star Julio Iglesias, Juan Luis Guerra, Ray Barreto, Earl Klugh, Dave Valentin, Johnny Pacheco, Ismael Miranda, Pete"Conde" Rodríquez, Oscar De'leon, Luis "Perico" Ortiz, "Libre' "Grupo Folkorico Experimental", Willie Colón, Kirsty MacColl, etc. Oscar's musical exploits include working as Musical Director/Conductor, arranging and producing the music for "The Capeman," pop-rock icon Paul Simon's Broadway musical. In addition, Oscar is also the music producer of "The Capeman" cast recording. Oscar was Musical Director/Arranger for the hit shows "Quien Mato A Hector Lavoe" and "La Lupe" at the 47th Street Theatre. He was also, Music Supervisor/Arranger for the show "Four Guys named Jose & Una Mujer named Maria."
Oscar's work as a studio session player can also be heard on numerous commercial jingles, some of which he has written and arranged. Among those is the hit show "Sex and the City."
In addition to having firmly established his reputation as an excellent musician and producer/arranger, Oscar has composed music for film having scored the music for the film documentaries, "If The Mango Tree Could Speak" by Pat Goudvis &"Angela Tiene Un Bebé" by Paula Heredia, HBO's "Ring of Fire: The Emile Griffith Story" and Cuban Roots/Bronx Stories by Pam Sporn.
In addition to leading New York's Spanish Harlem Orchestra, Oscar also has released 2 CD's as a solo artist, Oscar Hernández & Alma Libre, titled" The Art of Latin Jazz" and "Love The Moment" on Origin Records.
Oscar Hernández also worked as arranger and orchestrator on the new Gloria Estefan Broadway musical, "On Your Feet", which has garnered rave reviews and critical acclaim. He continues to be in demand as one of the top pianists, arranger/composers and bandleaders in his field.